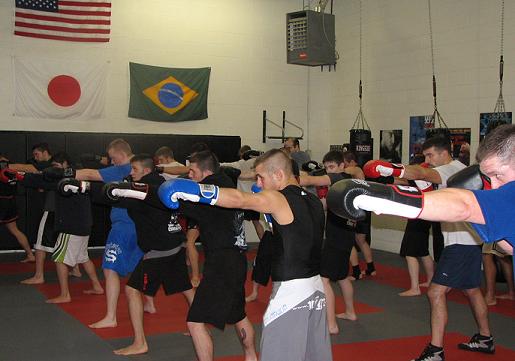 Our approach here at the GriffonRawl Academy is simple, "if it doesn't work, we don't teach it". All of our programs are not only designed to benefit those who intend to compete, but are also designed to teach Self-Defense while getting you in shape. Mixed Martial Arts is currently one of the fastest growing sports in the world today! However, do not be fooled, the styles we teach have proven their effectiveness inside and outside of the ring time and time again. Competing is not a mandatory requirement for attending any of our classes. Competitions we currently compete in are Muay Thai, Boxing, BJJ, & MMA.
Here is a little about our Academy. We are about 5,000 square foot. We have a 30'x40' section of Zebra Mats, a 20' Boxing Ring, a 20' Competition Cage, plenty of heavy bags, and pads. Last but not least we have mens and womens shower rooms available.
Offering classes in Muay Thai, MMA, Judo, Boxing, Wrestling, & Brazilian Jiu-Jitsu !
GR Latest Results


NAAFS "Midwest Combat Challenge 5"
Supreme Cage Fighting "Caged Combat IV"
NAAFS "Caged Fury 5"
IFBL "Fight Night 13"
Lake County "Lethal Weapon 1"
RFO "Richland Rumble"

GR Upcoming Events


Knockout Factory Presents "There Will Be Blood"
NAAFS "Night of Champions 2008"
Kincaid & Godhard Promotions "Professional Boxing"
SCF "War in the Heartland"
NAAFS "Midwest Combat Challenge 5"
NAAFS "Caged Fury 5"

NAAFS "Midwest Combat Challenge 5"

November 8, 2008 Akron, Ohio Chapparell's Center On Saturday night, three GriffonRawl members took to the cage for NAAFS "Midwest Combat Challenge 5". What follows is a recap of John Burbol, Matt Hopkins and Landon Khakdoust. John Burbol (185) was coming off consecutive knockouts as he faced Elijah Garshnick. No doubt his reputation preceeded himself, Elijah took the fight to the ground where John fought well, but was forced to tap out to an arm bar 2/3 of the way through round...

Read More
Knockout Factory Presents "There Will Be Blood"

Knockout Factory, located in Western New York, presents "There Will Be Blood" on December 13, 2008. Representing Team GriffonRawl will be Paul Compton in a professional matchup. Also on the card will be long-time GriffonRawl friend, Dan Swift from Team DNA. Best of luck to both men! Information as follows: Gil Lay Arena, 11093 Route 5, Irving, NY 14081. Visit www.knockoutfactory.com or contact Snake at 716 708 8393 / Snake@knockoutfactory.com

Read More
Supreme Cage Fighting "Caged Combat IV"

October 25, 2008 Cleveland, Ohio Gray's Armory Nate White, in conjuction with Tim Payne Promotions held Caged Combat IV at the historic Gray's Armory on Saturday the 25th of October. From Supreme Cage Fighting's website: Despite several setbacks and lack of responsibility by a few select fighters, Saturday Night was a night of rock-solid, heart pounding action! These fights have reminded the fans once again, why they love MMA. Absolute stunning action, and even better sportsmanship. Thanks to everyone who aided...

Read More
NAAFS "Night of Champions 2008"

The North American Allied Fight Series returns to Gray's Armory on Saturday December 6th for Night of Champions 2008. This year's event will be highlighted by seven National Amateur Title fights, plus many more. As of today only Nick Kilian will be representing the team. Nick has been off since January and looks to improve on his undefeated record as he takes on Jason Wolfe (7-1) of Team Jorge Gurgel. Tickets can be purchased from Nick directly. For more information,...

Read More
NAAFS "Caged Fury 5"

October 4, 2008 Cleveland, Ohio Gray's Armory The NAAFS held it's fifth installment of "Caged Fury" on Saturday night. Team GriffonRawl sent three men into action in a national "semi-final" with the winners getting an amateur title shot at "Night of Champions." Chuck Schilling (145), Dan Jones (155) and Bryon McCroskey (170) went to war. What follows is a recap of each fight. #2 ranked Chuck Schilling was taking on #4 ranked Lyle Sancouice of Team DNA. Chuck scored a...

Read More
Kincaid & Godhard Promotions "Professional Boxing"

Dan "The DareDevil" Jones will represent Team GriffonRawl in Coach Donny Walker's debut as boxing coach. Taken from a report on naafs.tv's message board, below is the entire breakdown of the event. Best of luck to Dan. Dan is a heavy-handed, hard-headed boxer with experience to boot! Todd Kincaid–Promoter Bill Godhard 440-223-7409 Westside.Boxing@hotmail.com Boxing in North Olmsted, OH: Nov. 21 Card Complete Ryan Thompson, Elecia "Mega" Battle, Andres Taylor, Miguel Gonzalez and more. Cleveland, OH - November 19,...

Read More
Who are the Instructors?
Griffonrawl Ohio Academy
Jason "Dynamite" Dent

Owner, Head Instructor, and driving force behind our Muay Thai and Mixed Martial Arts programs. Jason has been involved in the Martial Arts for well over a decade getting his start in traditional Karate achieving his black belt before moving into Muay Thai & MMA. He has about 17 amateur Muay Thai fights and currently competes Professionally in MMA. Jason has fought internationally and in large events such as the Ultimate Fighting Championship, King of the Cage, SuperBrawl, and Apex just to name a few.
Jeff Starr
Head Instructor of our Gracie Jiu-Jitsu program here at the GriffonRawl Academy. Jeff is a member of the Relson Gracie Jiu-Jitsu Association and is currently a Brown Belt. Jeff has plenty of BJJ competition experience and still currently competes. Jeff prepares those wishing to compete in grappling tournaments and MMA fights. Jiu-Jitsu classes are adaptable to both Gi and No-Gi. Even if you are not looking at competeing these classes are great for self defense as well.
Donny "Eagle Eye" Walker
Head Instructor of our Boxing program here at the GriffonRawl Academy. Donny has over ten years experience in the Martial Arts and is a certified Instructor under the United States Amateur Boxing, Inc. Donny runs classes in the sweet science three days a week and is also involved with our Muay Thai & MMA programs. Many of our fighters work with Donny to polish their boxing techniques and combos in addition to everything else we work.
Chuck Schilling
Chuck started Wrestling at the age of 11, he wrestled varsity for three years at Mentor. During Chucks senior year he was Captain of the team and also Winter Athlete of the year. Chuck started coaching at Mentor Youth Wrestling while still in high school and has coached at all levels of the Mentor program since graduation in 99. In addition to training, and fighting for GriffonRawl he is now currently coaching at Ridge Jr. High in Mentor.
Ron Russo
Ron started his martial arts training at nineteen years old in 1965. Ron begain his studies in the arts while enlisted in the US Army. He may have started with Karate and Ju-Jutsu but quickly found a love for Judo and has been with it since. Ron's is ranked as a Sandan 3rd Degree Black Belt under the U.S.J.A. and also ranked as a Shodan 1st Degree Black Belt by the Kodokan. Ron competed in Judo tounaments in the 70's and the 80's. Ron will puts his years of experience to work by helping our students and fighters learn to incorporate Judo takedowns into there games.
Griffonrawl Florida Academy
Dan "Tanis" Rawlings

Founder of Griffonrawl Academy here in Ohio back in 1997. Griffon is a mythlogical creature that serves as our mascot, and obviously Rawl is the begining of Danny's last name, thus our team name GriffonRawl. He now resides in Brookesville Florida and has continued to spread the GriffonRawl name and open two academies in the area, one being in Brookesville and the other in Tampa. Dan is a Pro Muay Thai fighter and has competed internationally for years. He is also a certified Muay Thai Instructor under Kru Vut Kamnark of the U.W.M.T.A. If you would like more info on the Florida schools or would like to contact Dan, please visit the offical GriffonRawl website at www.griffonrawl.com.